After ATV confirmed all was well with the show just two weeks earlier, this was the week that the end of New Faces was finally confirmed. Despite the success of acts discovered on the show, such as Marti Caine, Jim Davidson, Showaddywaddy and Roger de Courcey, it was announced that once series six had completed the show would not be renewed. Ironically the decision came as producer Albert Stevenson celebrated 50 years in showbusiness and a big party was held at the ATV studios after the recording of this New Faces show.
Former judge Clifford Davis, writing in the Daily Mirror, claimed the downfall of the show came last autumn, when ATV's programming chief, Francis Essex, reportedly told the new panellists, 'Don't be too destructive. Remember when you knock the programme, you're knocking ATV.' He also said, 'if you don't like an act there must be something you like in what they do or how they look.'
Clifford Davis claimed this policy alone resulted in the show losing it's impact with television audiences, suggesting that the barbed comments and criticisms were part of the reason that viewers tuned in each week. He added that he felt judges were being picked for their smiles instead of their verdicts, and the new policy resulted in mediocre acts being praised and encouraged, instead of the judges giving their honest opinions.
The panel of four judges who delivered plenty of 'praise and encouragement' on this show were Tony Hatch, Michael Aspel, Jimmy Henney and Les Reed. The seven new acts introduced by regular host Derek Hobson, in the order they performed, were;
Carole and the New Blues (seven-piece group) from Ireland
Joe Jones (comedian) from Liverpool
The Blaize Brothers (vocal trio) from Liverpool
Sheila Harris (vocalist) from Jersey
Chris Roberts (magician) from Hove
Keith Simon (vocalist) from Essex
Soft Pedal (six-piece group) from Milton Keynes
The winning act, Soft Pedal, were the the last act to perform and snatched victory, along with a place in the next All Winners show, by just two points from early show leader, Liverpool comedian, Joe Jones. Joe scored exactly 100 points and therefore also earned a second appearance in a future Near Misses show.
Soft Pedal had formed around eighteen months before their appearance on the show and in that time had written around sixty songs. Having managed to escape the roundabouts of Milton Keynes to arrive at the Broad Street studios they performed one of their own compositions, Loving You Girl. Their song impressed most of the judges with Les Reed awarding them a full ten marks for content, helping their final winning score reach 102 points. Soft Pedal's victory came just four months after they had finished runners-up in a talent competition organised by the One-Eleven Clubs, where they lost out to the three-piece harmony trio Sonic Sound.
Les Reed said they were 'one of the best acts on tonight,' adding he felt 'their voices could be more together in parts,' and concluding with 'I liked it very, very much.' Michael Aspel thought the group should change their name, saying 'Soft Pedal doesn't describe them at all, they need a much more vigorous name.' The use of the tambourine by the lead singer also had Michael suggesting he could always work for the Salvation Army.
Jimmy Henney said they were a 'very good group' and thought 'they used their three minutes up very well indeed,' and Tony Hatch said he would like to 'hear the other fifty-nine songs they've written.'
In May 1978 Soft Pedal performed an hour long set at the Bank Holiday show held at Chesham Football Ground. The group, who's visit to Chesham came in the middle of a British tour, delivered a versatile and polished performance in the blazing Bank Holiday sunshine. Despite the soaring temperatures wilting the audience, the group managed to set feet of all ages tapping, however, their image was slightly tarnished by the guy in the skimpy swimming trunks who repeatedly visited the stage to fiddle with their equipment.
The opening act of the show were Carole and the New Blues who performed the song All You Need Is Love, written by Roberto Danova and Peter Yellowstone, which had been recorded by Kelly Marie in 1976.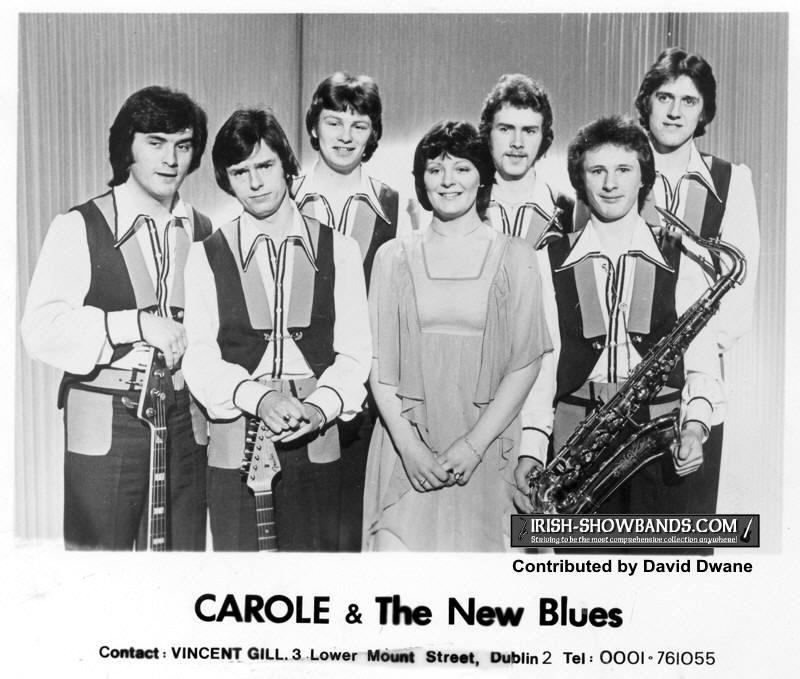 The seven-piece group from Dublin were Kieran Cavanagh (bass), Tommy Lyndsey (guitar), John McManus (drums), Carole Wallace (vocals), Tommy O'Connor (trumpet), Ritchie Buckley (sax) and Keith Beattie (keyboards) and although they had performed on television before their appearances were in Dublin and not in the UK so they still qualified for the show.
Les Reed thought the song was 'catchy,' and was the 'kind of song in bar kellers in Germany.' Michael Aspel likened the song to The Beatles' Ob-la-di, Ob-la-da and thought it sounded 'very Eurovision Song Contest' but said 'the song grew and grew.' He also pointed out that they were a 'very good looking group, and Irish speciality,' adding 'Carole is very beautiful.' When Derek Hobson asked if he'd been talking to her, Michael awkwardly claimed he was simply 'lusting from a distance.'
Jimmy Henney said the song had a nice title, adding the comment he 'liked Carole's voice but [the group were] musically better than vocally.' Tony Hatch made his feelings very clear by opening his comments by saying he 'absolutely hated the song.' He clarified his comment by saying, 'Ob-la-di, Ob-la-da, Y Viva España were great songs this is a copy of all those and it really is a terrible song, there are better songs they can do.'
The New Blues had emerged from the early 1960s Irish Showband The Royal Blues who experienced a number of line-up changes throughout the decade. In the early 1970s they renamed themselves The New Blues and were fronted a 23 year-old singer from Cork named Glen Curtin. Glen, having left the group in 1975, went on to win a New Faces show (4.31) in 1976, making two appearances on the show in total. At around the same time the group went through another major line-up change and recruited Carole Wallace from Dublin as their vocalist. One of Carole's earliest talent show appearances came at the Dundalk Festival when she was just thirteen years of age.
Liverpool comedian, Joe Jones, impressed the judges and scored exactly 100 points to earn himself another appearance on a future Near Misses show.
Joe's material and patter was lapped up by the audience and he got a lot of laughs for his jokes. As with most comedians of the time Joe spoke about his wife, 'For our honeymoon I took her for a World Cruise. I said did you enjoy that darling. She said yes, but I'd like to go somewhere different next year.' He also had some topical jokes about the recent power cuts, 'Power cuts, you know what caused the power cuts. The miners all get free coal, the power workers all wanted free electric next thing is the gas workers will all want free gas. It's the sewage workers I feel sorry for.'
Michael Aspel liked Joe's 'nice lugubrious style' and the fact he was 'not relying on funny faces.'
He also admitted 'it wasn't difficult to laugh.' Les Reed said 'Joe Jones has a terribly distinctive style. I think he's going to be very, very big.'
Tony Hatch found him very amusing, saying, 'I really did like him, but I don't think we are going to see him or two or three years time,' but he did concede he had 'great experience, timing and delivery.' Jimmy Henney didn't agree with Tony Hatch, he simply said, 'I think he's excellent.'
The third act on the show were the young group The Blaize Brothers, Tommy (15), Tony (14) and Darrin (11), who sang The Drifters hit Save The Last Dance For Me, on what was Tony's fourteenth birthday. The young brothers had been performing together for around six years and had already won a few trophies along the way.
Show host Derek Hobson couldn't quite deal with the their tongue twister name and had to correct himself after initially introducing the group as the 'Blaize Bluthers.'
While the group impressed the judges, they failed to make the magic score of 100 by just two points, meaning that they narrowly missed out on a second appearance. Tony Hatch said they had a 'few shaky notes there but I really did enjoy them. Just some little bit of magic came across there.' He concluded by saying, 'maybe I'm going to send them a song.' Jimmy Henney said, 'I like them very much indeed. They sang with great confidence, they are very natural and very relaxed, they moved well and with no exaggerated movement at all, and he agreed they had 'great potential.'
Michael Aspel liked the costumes, saying, 'the flames, blaze, get that, good isn't it,' stating what most viewers would have probably spotted for themselves. Les Reed thought they had the style and tradition of the Jackson Five and likened lead singer, Tommy to Stevie Wonder. He did state, 'they need a good manager and a good song.'
In August 1976 the trio were signed to State Records by fellow Merseysiders Tony Waddington and Wayne Bickerton in a deal worth several thousand pounds, with their first single reportedly scheduled for release by December of the same year. In February 1978 the group were being looked after by Hilda Fallon, who had previously 'discovered' Ken Dodd and Freddie Starr. She was reportedly negotiating a deal for The Blaize Brothers to record with Tony Hatch who may have been composing a song for them.
In April 1978 the group signed to Cloth Cap Management who set about negotiating a new recording contract for the trio after the post-TV appearance interest had waned. By November 1978 the Blaize's were back on the talent show trail and won the first prize at the Coconut Grove nightclub talent final, winning £200. In December 1979 the group were performing at the Liverpool Empire Theatre in a concert designed to give young Merseyside acts a chance to appear on the Empire stage and to raise funds for a Neighbourhood Development scheme. The show plan was to have 2,500 under-privileged children watch the show, with sponsorship paying for their seats. The shows audience saw two former New Faces acts, the Blaize Brothers and Malandra Burrows, who had won show 3.7 back in November 1974.
Nearly two years after their appearance of the show, in January 1980, the brothers, who were still students at Shorefields Comprehensive School, made their West End debut, performing at the Theatre Royal, Drury Lane in the annual talent show organised by Butlin's holiday camps. They had entered the show while on a family holiday at Pwllheli in July 1979 and had won through two further rounds at Pwllheli and Minehead to make the final eight acts, from more than 10,000 original entries.
The judges included three familiar names to New Faces viewers with Ed Stewart, Hilary Kingsley and George Elrick among the six strong panel. The Blaize Brothers, with a gospel-tinged medley, did not win, that honour went to fifteen year-old vocalist Sandra Banks from Cumbria. The winner of the junior section was the alarmingly good ten year-old from Swansea, Catherine Zeta Jones who sang Big Spender and This Is My Life with the power and accomplishment of a miniature Shirley Bassey.
By March 1983 The Blaize Brothers had become a duo with Tony and Tom, now using the name Blaize, continuing the act while Darrin stepped aside. The pair now aged twenty and nineteen were contestants in the Butlin's annual Star Trail competition at the London Palladium.
Since 2003 Tommy Blaize has been a singer with the Dave Arch Orchestra on BBC One's Strictly Come Dancing, performing for a number of years alongside Lance Ellington who won New Faces series five with the duo Koffee 'n' Kreme. Tommy has worked with some legendary artists, including Diana Ross, Queen, The Beach Boys, Amy Winehouse and Joe Cocker. He's even sung happy birthday to Nelson Mandela, with Stevie Wonder, while Aretha Franklin was watching in the wings. Tony Blaize went on to front many bands in and around Liverpool throughout the 80s and 90s, before joining New Londonbeat in 1999.
Soprano vocalist Sheila Harris performed the song Somewhere from the musical West Side Story scoring 94 points to finish in fifth place but just eight points short of the winning act.
Les Reed thought Sheila and her 'top notes' were both terrific adding 'I think she'd be great in musicals.' Tony Hatch said 'technically, you can't fault her' but was uncertain that the current situation in musical theatre would help her forge a career down that path.
Jimmy Henney stated, 'as long as there is stage musicals she'll always work. I think she sang very well indeed against an arrangement which really didn't do anything for her voice.' Michael Aspel was uncomfortable about hearing a song out of the context of the musical but was impressive with Sheila's appearance saying 'she's a very elegant lady, she's beautifully groomed.'
During the summer of 1977 Sheila was performing at Jersey's El Rancho entertainment complex in front of 300 people a night. Also performing on the same show was comedian Alan J. Bartley, who would make the final of this series of New Faces via the final Near Misses show.
Just a few weeks before her appearance on this show, in December 1977, Sheila was performing with the Gemini Opera Orchestra in Puccini's Tosca at Richmond Theatre. Also in the cast for the show was Dorothy Copeland, who had appeared on New Faces on show 2.7 in May 1974.
In June 1978 Sheila was completing a three week engagement on the P&O Oriana cruise ship. Sheila had been entertaining on cruise ships for the past twelve years and enjoyed the work exciting and demanding but hugely satisfying. Commenting on her cruise experiences Sheila said, 'an artist must be able to adapt to an audience, communicate with it and take the criticism he or she will often get after a show. You're with your audience the entire time and this can be the ideal opportunity to get to know it and establish a rapport.' She was back on the Oriana again, cruising out of California, in November 1978.
Before joining the Oriana Sheila performed at the Channel Islands Combined Chanties Convention in Jersey hosted by Sir William and Lady Sheila Butlin with guests of honour Prince and Princess Michael of Kent and Earl Mountbatten of Burma. The show raised in excess of £65,000, more than the previous year's fantastic amount. Sheila entertained the distinguished company with some well-chosen ballads performed with style and sensitivity. In May 1982 Sheila was again performing in Jersey this time on the Lido de France Olde Tyme Music Hall show with Tommy Trinder.
Chris Roberts had driven over 400 miles back from Germany, where he had been appearing in cabaret, to be in the studio for the recording of this show and impressed the judges who awarded a score of 96 points.
Chris selected a volunteer, Dave, from the audience for his trick. It began with Dave 'loaning' the magician a £1 note. Chris tore the corner off the note and sealed it in an envelope which he then proceeded to burn, much to Dave's dismay. Dave's confusion with the instructions he was given seemed to hamper rather than help the trick which resulted in the three minute performance not flowing very smoothly.
Chris' presentation was amusing and after he'd made the burning note disappear he told the audience, 'I'd like to show you something I picked up in Africa, I did in fact pick up two things in Africa, it's the only one I can show you.' Chris then asked Dave to select one coconut from a basket full of coconuts. Dave was then given a wooden mallet to smash the coconut open. The health and safety measures delivered nothing to protect Dave's poor fingers but after several attempts he found inside was a coconut bar and inside the wrapper of the bar was a torn £1, which matched the torn corner from Dave's original note.
Jimmy Henney thought Chris was very professional, saying it was a 'very clever act and I'd love to know how he did it.' Michael Aspel liked Chris' 'nice line of patter,' and said it was a 'very nice act.'
Les Reed was also amazed, saying 'I'd love to know how they do it. He didn't touch a thing, he just didn't touch that coconut.' Tony Hatch was less impressed claiming 'for me nothing terribly exciting, it took a hell of along time for anything to happen,' but he did add 'I don't see why he shouldn't be working for a long time.'
Back in August 1975 Chris' act was much more than simply magic, offering puppets and comedy alongside the magic act which also featured hypnotism. In 1976 Chris recorded slots on the For My Next Trick series for BBC television, which also featured former New Faces acts Guy Kent and Paul Vernon and Glen and starred Paul Daniels. In the same year Chris performed in Summer Showtime at the Maison Royale in Bournemouth.
In August 1977 Chris was on the first-rate entertainment roster at the Pontin's Squires Camp Holiday Park along with other New Faces discoveries Les Dennis, Bobby Kaye, The Amazing Bavarian Stompers, The Nobodies, Crick's Canine Wonders and Leslie Melville. In October 1977 the former journalist turned magician, Chris, featured on the BBC North West entertainment show We'll Call You which was introduced by Stuart Hall.
In June 1978 Chris was back on the Pontin's entertainment roster, performing across camps at Bracklesham Bay, Broadreeds, Little Canada and Camber Sands. He was in good company as also performing at those camps in for the 1978 summer season were Linda Fletcher, Johnny Tudor, J J Stewart and Michelle and Myles, who were all former New Faces acts.
In August 1979 Chris was one of around a two dozen performers who were founder members of the Federation of Ethical Stage Hypnotists, Britain's first official body of stage hypnotists. Amongst the Federation's priorities was the attempt to establish a two-tier licensing system, where all members would sign a statement promising adherence to an ethical code of practice, lodged with the Home Office, and would then be licensed by the body to appear at any venue. They also planned to liaise with hypnosis therapy organisations, and to run training courses and seminars.
The penultimate act of the show was Welsh born, but Essex based, vocalist Keith Simon who performed the Billy Fury hit Halfway To Paradise. The song was the opening track on his 1977 LP release So Near – Yet So Far Away. He was awarded a score of 86 by the judges.
Before getting any comments from the judges, Derek Hobson informed the viewers that Les Reed had played piano on the original single release of the Billy Fury version of the song that Keith had just performed.
Les Reed was first to offer his views and said, 'he's got a lot to learn, but his television sense is good, the way he acts in front of the camera is good.' Tony Hatch said Keith reminded him of The Fonz from the TV show Happy Days before saying, 'he's got a good voice and a good face,' however he also said, despite his obvious trip into nostalgia, 'his performance made me feel rather uncomfortable. I found it too affected and too mannered, although I know he's done it deliberately I think he'd be better using that talent going forward and not backward.'
Jimmy Henney though the performance was 'a little overdone,' but added 'I see him in front of a group.' Michael Aspel agreed with The Fonz comment made by Tony Hatch and said, 'with the those looks and the sharp clothes he's a great club entertainer I would say.'
Back in July 1967 Keith was just seventeen years-old but his great vocal chords had reportedly already secured him a seven year contract with Decca records. He was also performing on the same bill as his dad, comedian and vocalist Ivor Owen.
In October 1968 Keith was performing at the Lyceum Ballroom at the Annual Concert for the Metropolitan Police Welsh Society. His thirty minute cabaret performance stopped the show when he received a standing ovation. He had also signed a five year management contract with Tommy Sanderson who had reportedly negotiated a recording contract with Fontana Records putting his previous deal with Decca into doubt. Keith then spent the next year as lead singer with Bob Miller His Millermen, performing at the Investiture of Prince Charles at Caernarfon Castle, before returning to the solo act and making an appearance at The Peacock club, Streatham.
Since the death of Elvis Presley in 1977, Keith had been performing his own tribute show and the year after his New Faces appearance Keith was on the entertainment roster at the Seashore Holiday Village, Great Yarmouth along with a number of other discoveries from earlier New Faces shows. Other acts to feature were Lew Lewis, Graham P. Jolley, Allan Mills and The Nobodies. In 1980 Keith released a new LP, No Time At All, but under his own name of Danny Owen and later that year he released the single Kiss An Angel Good Morning having signed a recording deal with the independent Hammer Records. In the December of the same year Danny performed two shows at the Rhoda McGaw Theatre, Woking, Surrey on December 7 as a support act for comedian Tony Gerrard (winner show 2.3).
The dropping of Keith Simon in favour of his real name of Danny Owen was to create a frim link with his well-known show business family. Danny's father, Ivor, was a popular clubland comedian, his grandfather Billy was a comic and singer. Danny's great grandfather, Tom, was the first in the line of entertainers from the Owen family. A handbill from 1916 at the Hippodrome, Monmouth described the show as the 'most expensive and important visit of the popular Tom Owen, the original Welsh comedian.'
In May 1982 Danny was voted the best male vocalist at the London Club Acts Awards show at the Fairfield Hall, Croydon. Other New Faces discoveries also winning awards were Lew Lewis (comedian) and Gary Wilmot (comedy speciality). In 1986 Gary Wilmot and Danny were reunited once again when the later provided one of the supporting acts for Gary's sixty date UK tour. They were also on television together when they both appeared in Summertime Special with comedian, and another New Faces success, Ian 'Sludge' Lees. They appeared together again at the end of 1986 in the Snow White and the Seven Dwarfs pantomime in Lewisham, with Danny playing the role of Prince Charming.
Danny has expanded his tribute acts over the years and as well as the Elvis tribute show he has performed his tribute to Neil Diamond since 1984 and his Tom Jones tribute act has supported Danny La Rue, a familiar face on the New Faces judges panel. In 1996 Danny appeared on Stars In Their Eyes where he performed the song Crazy as Julio Iglesias. He went on to tour Spain and Ibiza with his own Julio Iglesias tribute show. In 1998 Danny launched his one man Evening With The Stars show featuring his tributes to ALL his tribute artists plus his Cliff Richard tribute as well. Danny is now working as a photographer and is based in Essex.
The final scores on the show were;
| | | | | | |
| --- | --- | --- | --- | --- | --- |
| Pos | Act | Presentation | Content | Entertainment Value | Score |
| 1 | Soft Pedal | 33 | 34 | 35 | 102 |
| 2 | Joe Jones | 31 | 35 | 34 | 100 |
| 3 | The Blaize Brothers | 30 | 34 | 34 | 98 |
| 4 | Chris Roberts | 32 | 31 | 33 | 96 |
| 5 | Sheila Harris | 32 | 30 | 32 | 94 |
| 6 | Keith Simon | 27 | 31 | 28 | 86 |
| 7 | Carole and the New Blues | 27 | 26 | 29 | 82 |
With only eight points separating the top five acts this was a very close show but Soft Pedal snatched the win with the show's final performance
Archive: A copy is held by the BFI – Work – 572322