Regular show panellists Mickie Most and Martin Jackson were joined by series five newcomers Muriel Young and Peter Prichard to review the performances of seven new to television acts, however, the full list of acts for this show is uncertain. There are eight possible acts, of which seven would have definitely performed.
The five that most certainly did perform were;
Penny Black (five-piece group) from Walsall
Peter de Dee (comedian) from Hartlepool
Christie Lee (drummer) from Portsmouth
Bryan Taylor (vocalist) from Glasgow
Ding-a-Ling (seven-piece showband) from Limerick, Ireland
That leaves three acts, from which, just two would have performed, with the other one making way for the shows late replacements Penny Black.
Angel (four-piece group) from Cheltenham
Mike Hill and Whiskey (ventriloquist) from Dublin
Gemma Murphy (vocalist) from Shannon, Ireland
The confirmed winner of the show was Scottish vocalist Bryan Taylor who booked himself a return appearance on the Christmas Day All Winners show, and was one of three acts to score over 100 points.
Bryan's singing career began at a very young age when he joined his father, Neville, on the single The Miracle Of Christmas at the age of just six. At the time Neville Taylor and his group The Cutters were a regular act on TV music show Oh Boy! and Neville had been signed to the Parlophone record label by George Martin, the man who would go on to produce The Beatles. The plan was to emulate Harry Belefonte's success with Mary's Boy Child with young Bryan singing on the track in an appealing and slightly wobbly voice to give it the cute appeal factor, however the record didn't sell well at all and even the B-side, co-written by George Martin under the name of his father-in-law, John Chisholm, failed to boost sales.
Bryan's cabaret material ranged from Frank Sinatra to Tom Jones to James Taylor and he'd performed his own show at the Crazy Daisy cabaret room in Glasgow's Sauchiehall Street. Following his New Faces appearances he secured his own TV series, The First Time, on Scottish Television which saw him welcome guest acts such as Dana, Barbara Dickson and The Real Thing.
In 1977 Bryan appeared on the bill of ITV's The Royal Show at Glasgow's Kings Theatre in the prescence of The Queen and the Duke of Edinburgh. On the same bill that evening were Ronnie Corbett, Lena Zavaroni, David Soul, Dolly Parton, The Jacksons and former New Faces finalist Elaine Simmons. In 1978 Bryan released the single Love Nights / Faded Love on the Private Stock record label.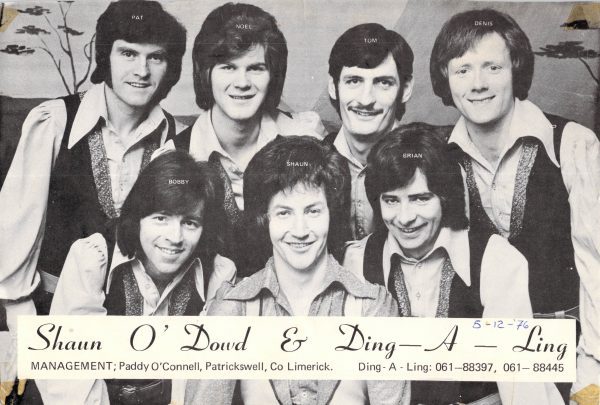 Runners-up on the show were Ding-a-Ling, the show band from Ireland with their lead vocalist Shaun O'Dowd.
The other members of the band were Denis Allen (lead guitar), Bobby O'Driscoll (bass), Noel O'Toole (trumpet), Pat McDonald (saxophone / clarinet), Tom Frost (drums) and Brian O'Grady (keyboards) and they were managed by Paddy O'Connell.
The group had a top ten hit in Ireland in March 1976 with their single Gary, Don't Go, which may have been their song of choice for the show, but that cannot be confirmed.
Their impressive score of over 100 points guaranteed them another appearance on the show and they would return for the Near Misses show on 19 March 1977.
Finishing in third place in this high scoring heat, again with a score of over 100 points was drummer Christie Lee, whose real name was Christine Leeworthy. Show judge Mickie Most, in his comments on her performance, stated that Christie was 'one of the six best girl drummers in the world.'
Christie had started drumming in pubs and clubs at the age of thirteen before joining the Ivy Benson Orchestra at the age of seventeen, playing with big names such as Dinah Washington, Fats Domino and Tom Jones. After seven years with the Orchestra Christie left to form the The Beat Chics, who were chosen as the support group for The Beatles on their first tour of Spain and France, they even travelled with them on their private jet where John Lennon and Paul McCartney busily wrote a number of new songs. Later in her career Christie was a member of The Skinnerettes, the house band on Frank Skinner's chat show. When Ringo Starr appeared on the show he was asked if he remembered Christie. He claimed he didn't, but Frank Skinner had prepared a photo of the pair together to prove his point. The Beat Chics released their single Skinny-Minnie on the Decca record label in 1964, which made a minor impact on the Billboard charts.
In the 1970s Christie formed became the first female bandleader working for the Mecca organisation, forming The Christy Lee Band who were resident at many ballrooms throughout the country including the famous Lyceum in London. Christie took the thirteen piece band to Portsmouth where a young trombone player named Lance Ellington joined. Christie would soon spot Lance's potential as a singer, pairing him with Bette Hannah to form, as well as manage vocal duo Koffee 'n' Kreme. The duo would go on to achieve huge success on New Faces later in this series. In 1980 the Christy Lee Band released their The Best of the Woman in Me in the President record label.
In 2020, now at the age of seventy seven and performing as Crissy Lee, she appeared on the latest ITV talent show Britain's Got Talent making it through to the semi finals having impressed the judges with her initial audition routine, although her original New Faces talent show appearance was never mentioned on the programme.
Penny Black were a popular female fronted five-piece band from Walsall and they opened the show with their version of Kiki Dee's I Got the Music in Me, scoring a total of 89 points from the judges marks.
Penny Black's lineup was Joan 'Tiki' Jones (vocals), Barry Underhill (bass guitar / vocals), Rob Wood (lead guitar / vocals), Roger Hayward (Hammond organ / vocals) and John Perkins (drums). They had recorded an EP that was to coincide with their debut TV appearance but it was never released.
The judges remarks were generally positive with Peter Prichard commenting that their female vocalist was 'very pretty' and that she reminded him of a 'young Debbie Reynolds.' Muriel Young said they had 'zest, pow and kapow' and liked them enormously. Her only criticism, of sorts, was that Joan was wearing a fashionable top, the baggy kind that floated around in the breeze, and she thought that 'with her smashing little figure, she should give the boys a break and not cover it all up with that bit of old tat.' Host Derek Hobson commented that he was glad Muriel thought the same about her figure too.
Martin Jackson referred to the group as the 'Walsall Concerto' and added that he thought the female vocalist had a very commercial sound and she would make a very good recording artist with her nice sharp, hard sound . He added that 'they looked good' and 'she's a nice little mover.'
Finally Mickie Most said he thought they had picked a good upbeat tune to open the show, but he thought that Kiki Dee's original version was better. He felt that the band were 'a little lightweight' and 'the sound needed to be a little stronger' adding that 'they needed more conviction.'
From the information provided by Barry Underhill, including an audio recording of their performance made by Rob Wood's younger sister (listen below), their appearance on the show is absolutely certain. Barry also provided a copy of a telegram he received from Sandy Howard at ATV, dated 18 November 1976, requesting he telephone the New Faces office on 021 643 9898 urgently.
Penny Black continued to perform with various personnel changes, with Barry Underhill everpresent, between 1974 until 1989 when they changed their name to PARIS and introduced a revamped modern romantic image, which was initiated by their latest female vocalist, Paula Tuckley. They disbanded in late 1991, with Barry Underhill and Rob Wood continued as a duo until 1999. The original members of PARIS briefly reformed in 2012 to perform at a charity gig. The show was so successful they decided to continue performing until Barry Underhill left the band in early 2014 and PARIS finally disbanded shortly afterwards.
Hartlepool comedian Peter de Dee was confirmed as appearing by his promotional advert in The Stage the following week. The advert stated that he had been a 'sensational success' and 'even the band fell about laughing.'
Mickie Most is quoted as saying he was 'the best we've had so far,' and Peter Prichard (incorrectly credited as Pritchett) said the comedian reminded him of Ken Dodd.
Peter de Dee was formerly the clown / drummer with the popular North East band Hawaiian Meets Country before going it alone as a funny man, using his endearing lisp and fast delivery to full effect.
In the mid-80s Peter risking the wrath of feminists across the UK as he teamed up with eight strippers to offer a completely new show aimed at the stag night audience. The Stripperama show featured Peter's own fifty minute comedy spot which included the strippers in specially adapted dance routines. Around the same time Peter started writing for radio and television, including sketches for Spitting Image. In a complete change of direction from his stag night shows Peter was seen playing five different characters in the children's television series Supergran. By the end of the 1980s Peter had added a side-splitting funny fire-eating finale to his routine that occassionally featured vulgar humour and cheap racist gags which some critics suggested he could have easily left out and still been as equally successful.
Credit: Thanks to Barry Underhill (Penny Black) for providing the additional information, audio and images from Penny Black's appearance.